We are moving toward an all-electric lifestyle that is clean, healthy, and efficient. Due to global climate change, health impacts, and long-term economic benefits, our member communities are switching from fossil fuels to electricity powered by 100% clean energy sources. Working together, we have reduced carbon emissions from electricity generation by 96% while saving our customers about $90M in electric generation costs since our formation in 2016. Below we review some of our highlights from this past year: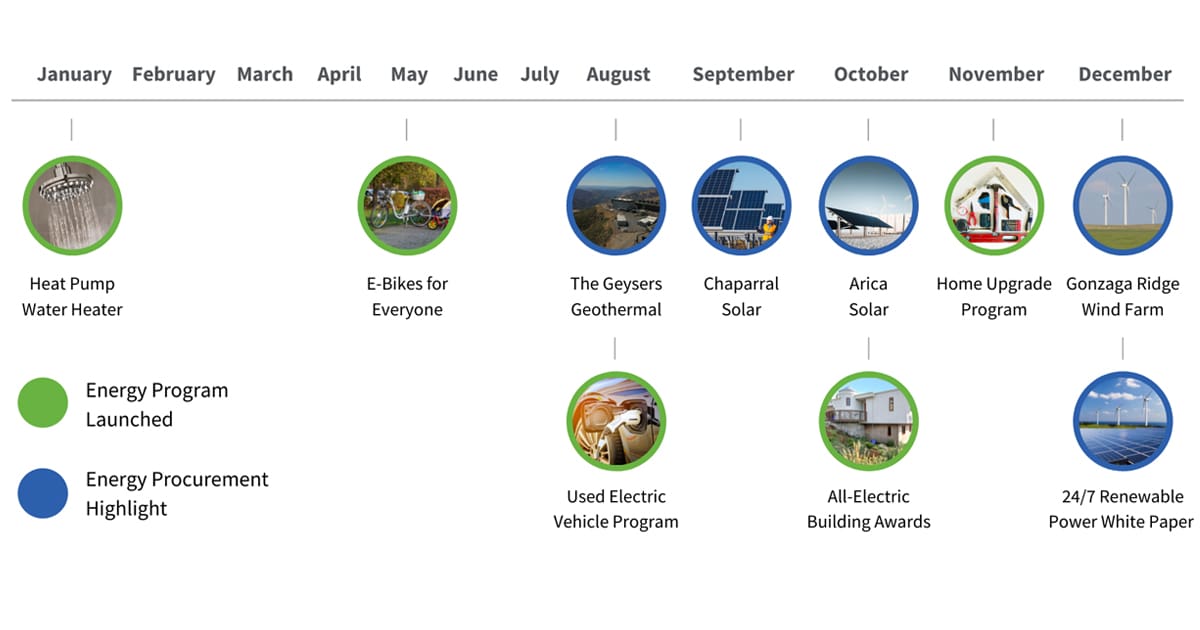 Our path to 24/7 renewables
 In 2017, we set a goal to deliver 100% renewable energy to match demand on an hour-by-hour basis. In December, we published a white paper laying out our vision for 24/7 renewable energy, our progress to date, and at a high level, how we are planning to achieve it by 2025. If we can achieve this goal, we can provide a model for other load serving entities to follow and accelerate further reductions of greenhouse gas emissions in the electricity supply.
The need to do this is urgent. We aim to demonstrate that we can achieve this goal cost-effectively, just as we have demonstrated since our inception in 2016, providing consumers with cleaner energy at a lower cost.
New and expanded energy programs

As a not-for-profit, community-led agency, we invest earnings into local programs that reduce carbon emissions while offering significant savings. This year, we introduced or expanded the following programs:
Heat Pump Water Heater Program
In the first year of this four-year program, San Mateo County homeowners could receive a rebate of $1,000 or more from Peninsula Clean Energy when they installed a new heat pump water heater. Interest in the program exceeded our target for the year.
E-Bikes for Everyone
This rebate provided up to $800 off the purchase price of a new electric bicycle for income-qualified residents of San Mateo County. Interest in the program was high and all available funds for 2021 were exhausted early in the year.
Used Electric Vehicle (EV) Program
We expanded this program and now all San Mateo County residents, regardless of income, can get a rebate for purchasing a used EV. Most residents are eligible for a rebate of $1,000. Income-qualifying residents can receive up to $4,000.
Home Upgrade Program
With this new program, income-qualified homeowners can receive home repairs and energy efficiency upgrades at no cost to the participant. The focus of this program is on energy efficiency and electric appliances. However, we also fund repairs to improve the health and safety of residents, such as window and door repair, replacing old carpet with flooring, removing hazards like asbestos, and more.
Power on Peninsula program
This program, continued from 2020, helps residents maintain power during outages by making a solar + storage battery backup system more affordable. We partnered with Sunrun to provide up to $1,250 for homeowners to install a system. This program will end on March 31st, 2022.
The All-Electric Leadership Awards

As we work together to decarbonize buildings, these awards offer recognition and cash prizes to the winners for the best examples of renovated or newly constructed buildings with 100% of energy loads electrified. The award winners are also featured in our All-Electric Project Showcase which celebrates outstanding examples of clean, sustainable buildings.
Community outreach grants

This year we partnered with ten San Mateo County community-based agencies to increase outreach about bill savings and other benefits of clean energy programs.
We awarded $316,440 to support communication to residents about electric vehicles and assistance enrolling income-qualified customers in discounts and programs.
Power purchase agreements
313 MW of new clean energy & 102 MW of storage
In 2021, we signed power purchase agreements (PPAs) that help us reach our 24/7 renewable electricity goal. We signed our first contract for geothermal power, and another first for large-scale solar + storage. These PPAs also support green jobs and fuel economic development.
The Geysers
This PPA with Calpine Corporation, our first for geothermal power, is for 35 MW from The Geysers, located north of San Francisco.
Chaparral Solar
Our first solar + storage power purchase agreement with Leeward Renewable Energy includes 102 MW of solar and 52 MW of lithium-ion battery storage from their Chaparral Solar Facility in Kern County.
Arica Solar
This solar + storage power purchase agreement includes 100 MW of solar and 50 MW (200 MWh) of lithium-ion battery storage located in Riverside County. The project is being developed by Clearway Energy Group.
Gonzaga Ridge Wind Farm
This PPA will provide 76 MW from the repowering of the Pacheco Pass Wind Farm in Merced County. The project will replace the existing 162-turbine wind farm with a much-smaller fleet of far more powerful state-of-the-art turbines.
School & Education Programs

Today's students are tomorrow's energy and environmental leaders. That's why we support programs that promote professional development for educators and enhance learning experiences for students at public schools and community colleges. We supported the following educational programs in 2021:
Youth Climate Ambassadors Leadership Program
59 high school student leaders gained background knowledge on pressing environmental issues and then developed and implemented projects to drive change within San Mateo County.
Environmental Solutionary Teacher Fellowship
74 teachers designed curriculum that advanced environmental literacy and empower students to identify and implement solutions. 1,800+ students engaged in clean energy curriculum.
Sustainable and Climate Resilient Schools Administrator Fellowship
11 administrators across 9 school districts in San Mateo County received support to drive environmental transformation across their school community and become climate-ready.
Energize Colleges Program
10 community college students completed paid energy and sustainability internships with 7 community partners in San Mateo County.
We are grateful for the ongoing collaboration with the San Mateo County Office of Education, the San Mateo County Community College District, and other community partners.
Assisted four cities with decarbonization reach codes
This year we worked with Colma, Daly City, San Carlos, and South San Francisco to help them adopt building codes which will result in safer and more comfortable buildings, increase our electric vehicle charging infrastructure, and reduce our carbon footprint.
As part of this support, we provided extensive technical assistance plus a $10,000 incentive to cities that brought reach codes to their councils.
Here are all the municipalities in our service territory that have enacted reach codes:
Brisbane
Burlingame
Colma
Daly City
East Palo Alto
Menlo Park
Millbrae
Pacifica
Redwood City
San Mateo
San Carlos
South San Francisco
The County of San Mateo